Beginner, intermediate, or expert?
Whether you choose SlideShow Premium (the compact version for the budget conscious), SlideShow Ultimate (our customer favorite), or Stages (the professional software for high demands) – there is something for everyone.
SlideShow 12 Premium
For beginners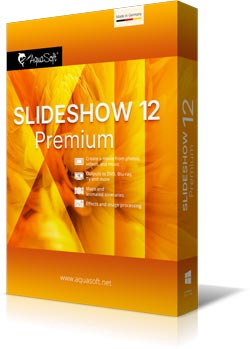 Shows with transitions and music
Image and video animations with 3D rotation, zoom, panning, and effects
Video and Image editing
Versatile & freely customizable text
Map wizard and animated travel routes
Timeline with an unlimited number of tracks
Burn to Blu-ray, AVCHD disc, and DVD
Video export as MP4, M2TS, MOV, MKV, AVI, WebM, animated GIF, and as single frames
Archive a project (incl. all necessary files)
SlideShow 12 Ultimate
For the ambitious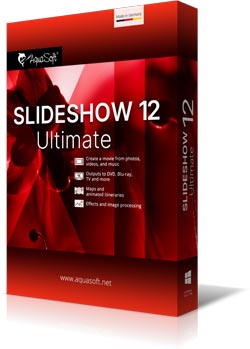 All of the new features in SlideShow Premium plus:
Additional transitions, text animations and effects
4K UHD resolution (both when played back in real time as well as during video creation)
Extended Video editing functions
Image narration
Live effects: color displacement, mosiac, live blur, masks and more
WMV and H.265 video export, all export settings configurable
Advanced user interface and image protection
Create your own templates, picture effects, slideshow objects, motion paths, ...
AquaSoft Stages 12
For professionals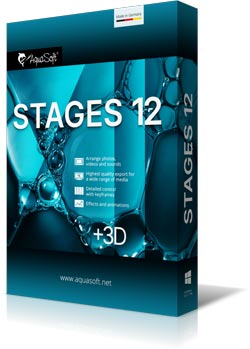 All of the new features in SlideShow Ultimate plus:
Advanced timeline with keyframe view
Live Effects with dynamic parameters
Live preview and simultaneous control of movement paths
Video speed dynamically controllable
Freely adjust video sound levels
Chroma Key (green screen) for videos and images
Optional password protection for exported presentations
Soundtrack that can be extracted and managed separately
Multi-monitor support
Custom Aspect Ratio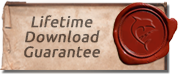 Your benefits
Guaranteed original product
100% virus free
Free e-mail support
Lifetime download guarantee
Free version updates (bug fixes, small features)

Buy safely with cleverbridge
Who is Cleverbridge? Buying via the internet is a matter of trust. We only accept partners we can trust. Because of this, we chose Cleverbridge to manage our online shop. Cleverbridge is a German company specialized in secure payment handling and online shops with departments in Chicago and Tokyo. We guarantee the quality of our products and the secure handling of your orders will be managed by Cleverbridge. This partnership has now been successful for many years.We guarantee the quality of our products and cleverbridge processes your order financially and technically secure. This partnership has proven itself over many years.

Detailed feature comparison
Animation and Design
Transitions
Text animation
Image effects
Image editing
Image and video animations with 3D rotation, zoom, panning, and effects
Record comments with the integrated sound wizard
Smart theme-based templates
Object effects (Picture-in-picture, Ken Burns, 3D, and more)
Live Effects (Color shift, Color effects, LUT, Color curve adjustment, and more)
Extended live effects (Dynamic masks, Displayment mapping, Live blur, and more)
Map wizard and animated travel routes
Chroma Key effect
Key frame tracks
Particle system (snow, rain, dust)
Controllable particles
Export Options
Burn: Blu-ray, AVCHD disc, DVD
Video: MP4, M2TS, MOV, MKV, AVI, WebM, WMV, animated GIF, single frames
Video export with detailed configuration options (resolution, bit rate, frame rate ...)
4K UHD resolution
PC Show (with separate player)
Slideshows with menu (PC & DVD)
Archive a project (incl. all necessary files)
Internet (Export)
YouTube
Facebook
WhatsApp
User Interface
Workspace views
Layout designer
Layout designer with live preview
Layout designer with continuous Zoom
Intersection visualization of overlapping videos
Image list, metadata, events, search function
Toolbox
Real-time playback
Full resolution preview without prior rendering
Selection of target display
IntelliLoad4K
Extras
Advanced project settings (player navigation, numeric input for songs, aperture)
Custom intro logo
Projects with custom aspect ratio
SlideShow 12 Premium
Export Options
Internet (Export)
User Interface
Real-time playback
Extras
SlideShow 12 Ultimate
extended configuration options
117, extended configuration options
Export Options
with image protection and encryption
Internet (Export)
User Interface
4 built-in + create your own
includes manual input for movement marks, magnetic grid
Real-time playback
Extras
Stages 12
extended configuration options
117, extended configuration options
Total: 21 (incl. Chroma Key)
controlled with key frames
Export Options
with image protection and encryption
Internet (Export)
User Interface
5 built-in + create your own
includes manual input for movement marks, magnetic grid
Real-time playback
with automatic detection of new displays
Extras