Have fun with YouDesign Calendar
Thank you for your interest in YouDesign Calendar. Your download will start automatically within the next few seconds.
In case the download does not start automatically
Add images and photos
Create your first photo calendar from your favourite photos. You can drag the pictures with the mouse directly from the image browser onto the respective calendar page. Photos already used in the project are given an icon that takes you directly to the corresponding calendar page.
If you are working with a calendar template, placeholders are displayed. You can simply drag your photos and images onto them with the mouse, YouDesign Calendar adjusts the images according to the template. In no time at all, you create your own personal calendar with your photos.
You can hold images that you wish to use later in an expandable and collapsible tray. This ensures that no snapshot is forgotten and that you always have the full control of your project.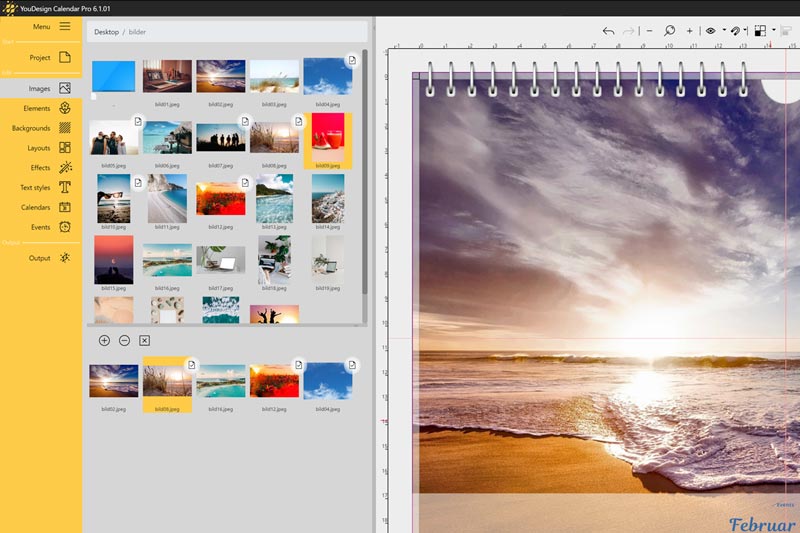 Using stickers and elements
Let your imagination run wild and add emojis, stickers and other design elements to your calendar. Create your own individual photo calendars and decorate your photos. In the Emoji kit, for example, you will find funny mouths, sunglasses, etc. that you can place on the faces of your family and friends.
The stickers will also help you with regular appointments such as football training: Instead of entering the word "training", you can simply place a small ball graphic on the corresponding day of the week.
In addition, we offer you exciting YouDesign Sets which bring even more decoration elements and templates into YouDesign Calendar. We offer both free and paid extensions, which you will find on the YouDesign Sets page.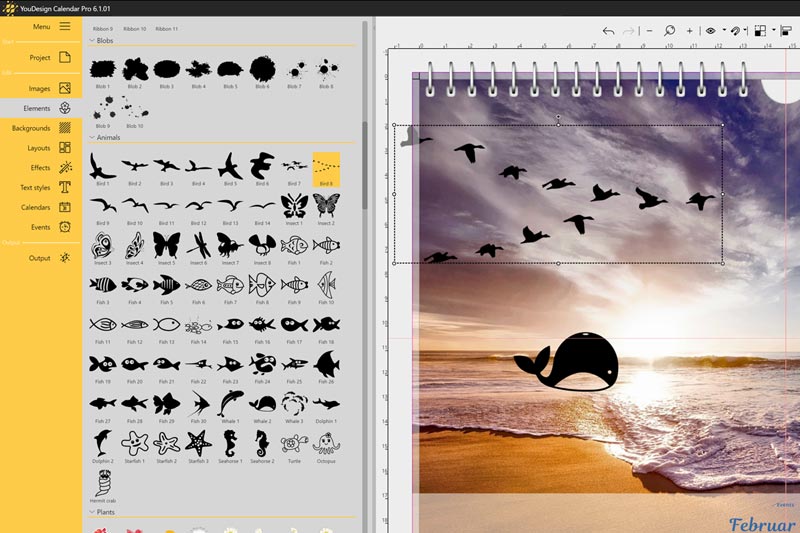 Using background graphics
With suitable backgrounds you can make your photo calendar something very special. Simply drag the backgrounds onto your calendar page using the mouse. Alternatively, you can select the background design directly by double-clicking it. You can use the same background for the entire calendar, or select a separate one for each individual calendar page.
YouDesign Calendar has a large selection of modern backgrounds, whether monochrome, with gradient or stripes. In fact, our designs are so beautiful that even without photos, you can create unique calendars that won't miss their impact. Try it out!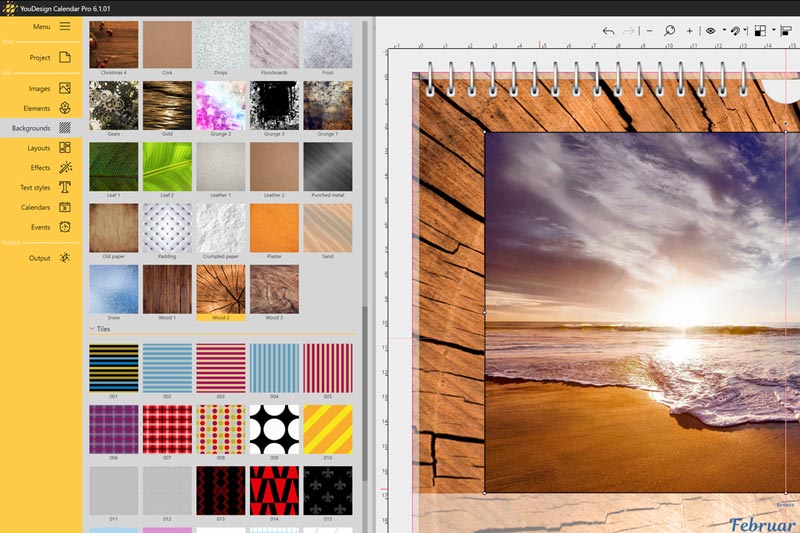 Page layouts
YouDesign Calendar comes with many ready to use page layouts. When you drag a layout to an empty page in your calendar, empty placeholders are created. Insert your photos by dragging them on the placeholders with your mouse - the software automatically adjusts them to the size and detail of the image.
What happens if there are already photos on the calendar page? The new layout dragged onto the page automatically arranges the images machting the new design. If not enough pictures are available, the missing pictures are replaced by placeholders. If the page contains more images than needed, they will be removed.
The layout templates are ideal if you are in a hurry: The first step is to simply drag your favourite layout to the blank pages. Fill the placeholders with personal photos and add calendars and you are done!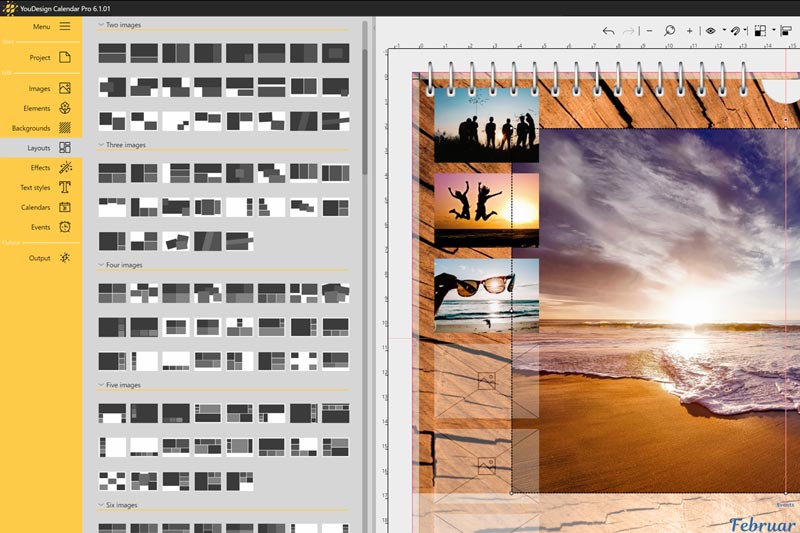 Add effects to photos
Decorate your photos and texts with frames, masks or beautiful filters. This allows you for example, to design your pictures in the optics of Polaroid photos with the typical edge of the instant pictures. Simply drag the desired effect onto the relevant image.
You can also slightly brighten or sharpen the photos with the effects in YouDesign Calendar. Other options for your personal calendar are shadows, reflections, adhesive tape effects or vintage-style retro filters.
If you decide to change your mind and still don't want an additional effect on your image, simply drag the "Delete image effect" effect onto the text or photo.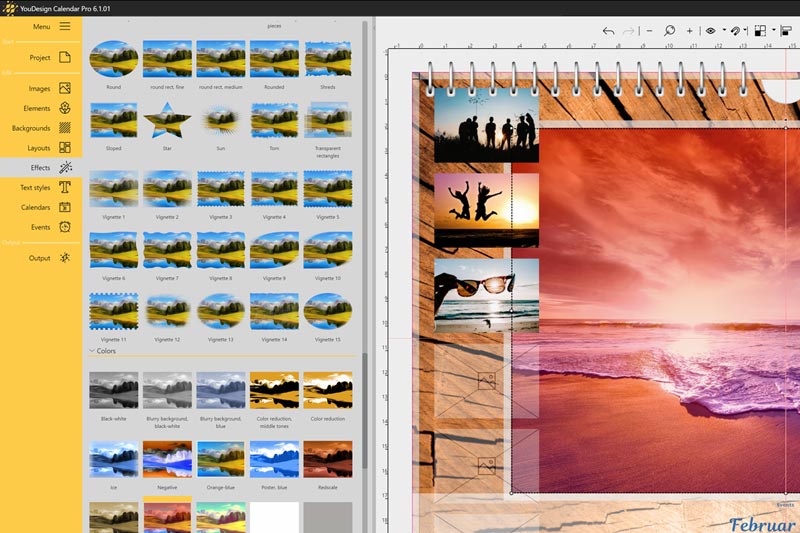 Customize texts
Add text to your photo calendar and label images. Drag a new text box (from the Elements tab) onto the selected calendar page and place it using the mouse. Double-click on the added text box to open the text properties. Now you can specify the font type, size, color, and alignment of your text.
You can also drag text styles to existing texts using the mouse. An extra window will then open in which you can select which text properties should be applied. This function is particularly useful if you want to change the font for all months.
Your calendar becomes even more individual with funny anecdotes. Tell the story behind the photos briefly and concisely. For the more daring: create a calendar with inspirational sayings instead of photos!
Placing calendar tables
Use the mouse to drag predefined calendars tables onto your calendar page. The page number determines the month. In addition, you can also combine individual calendar elements such as day, year, month name or even events to create your own calendar tables. All elements can be placed freely on the calendar pages.
With a double click on the placed calendars an extra window with the properties opens. There you can set the background color of the calendar tables or assign extra font sizes and colors for the weekend. It's that easy to create your own personal calendar!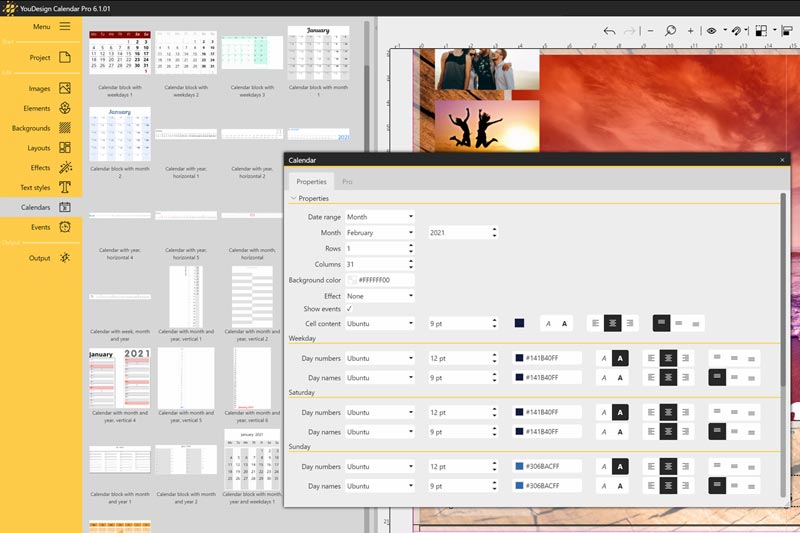 Using events
Birthdays, holidays and other dates can be created and printed directly in the calendar. You can save the event lists created in this way for further calendars and use them again later. You can create and combine any number of event lists. It is therefore particularly helpful to write all birthdays in a list and to use this list for several years and to supplement it if necessary.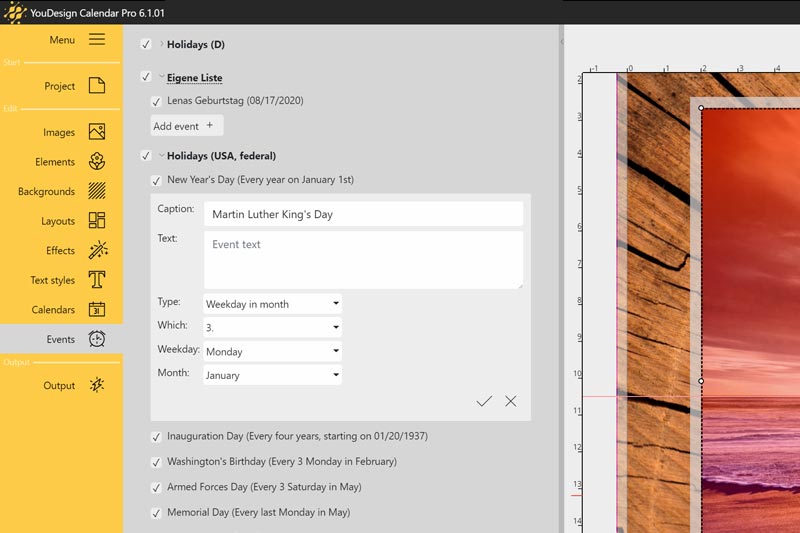 Inspirations and tips
We want to help. Numerous explanations and first-class support are always there for you.