After more than 10 years serving hundreds of thousands of customers in German speaking countries and, to a lesser account, around the world, we thought it's time to make the jump across the Atlantic!
Germany may probably not be your first choice when you're looking for a friendly household helper, or a warm and sunny vacation spot. But when it comes precision engineering, you're in good hands: BMW's and the like, highways that are called Autobahns (with few potholes and no speed limit), impeccable public transportation. And, of course: excellent software…

Humble Beginnings …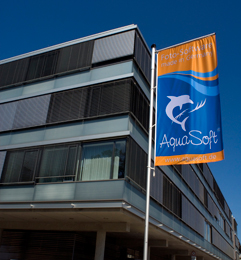 What started as a personal hobby by AquaSoft founder and current CEO Steffen Binas back in 1999, has now matured into a reputable software company with a fanatic focus on good engineering and product quality. Our flagship product, AquaSoft SlideShow, is now in its seventh major release and incorporates thousands of customer inputs that we received over the past years.
Due to the fast growth of the company, its products designed for the English speaking markets didn't always get the attention they required, because the company simply didn't have enough resources on hand. Luckily, that has changed, and you can expect the same excellence of care now if your native tongue is English. At any time, feel free to let us know your thoughts about our products and services, your ideas for great slideshows or anything else you think is important to share with us and other AquaSoft customers.
Stay in touch
If you have an RSS reader, please subscribe to this blog. If you prefer Twitter, check us out under @AquaSoftNews. To see demos of slideshows and video tutorials (coming soon),  visit our AquaSoftNews YouTube channel. For those of you who feel bold enough to dig out old high school German skills, feel free to head over to the well-stocked  German AquaSoft channel. It has some great videos that explain SlideShow features, along with inspiring demo shows (…and you can always push the mute button).