You already learned about movement paths in chapter Text animations.
You can apply movement paths to the following Slideshow objects:
Insert an image which you would like to animate with a movement path.
Then click on the image in the Image list or on the Timeline. In the Layout Designer the tools for the movement path are now activated.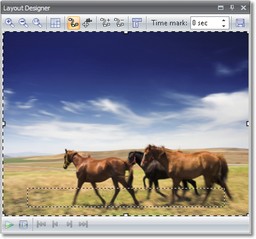 | | |
| --- | --- |
| | This is the icon for switching into the mode for movement paths in Layout Designer. |
| | Using this icon, switch into the mode for camera pans and zoom. |
| | Use this button to insert new movement marks. The course of the movement is established on the basis of these points. |
| | To remove movement marks that have been set, the latter must be selected in the Layout Designer and can then be removed with this button. |
| | You can use this to open a further menu for the movement marks. |
| | The chronological course of a path is established with timestamps. You can thereby determine how quickly the sequence should occur. That is clarified in an example below. |
| | You custom movement paths can be saved and reused. This function is only available in SlideShow Ultimate and Blue Net. |