You can not only use images in AquaSoft ® SlideShow, but you can also insert videos.
To insert a video, you will find the the Video object in the Toolbox under Slideshow objects.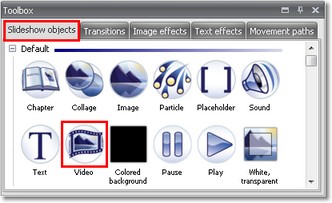 You can insert it with a double-click or drag the Video object with the mouse out of the Toolbox onto the Timeline or Storyboard or into the Image list.

In the Object settings of the video you now have various setting options. Should the Object settings not be shown in the view available to you, you can retrieve them by right-clicking the video on the Timeline or in the Image list.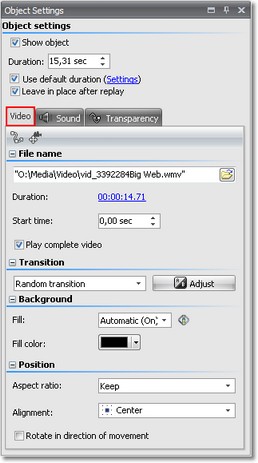 Should the full length of the video not be played back, remove the check mark beside Play back the full length of the video. You can then determine the playback duration individually.
You can crop the video at the beginning using Start time. If you don't want to play the video from the very beginning enter the point of time where you want the video to start. Under Duration specify its playing time. This way you select the part of the video to be played.
Should the video not be intended to be played back full screen size, it can be freely positioned in the Layout Designer. You can also assign a cross fading effect to the video.
The Fill background function enables you to see the previous image during playback of the video or cover it up with a colored background.
Under Sound you can determine whether the background music is supposed to be faded out during the course of the video being played. Should you have your own audio or spoken commentaries in the video, you should use this function.
Further Object settings of the video are explained here.
The video can also be animated with a movement path. How that functions exactly you can find out here.
Technical information:
Prerequisite for playing videos is a suitable DirectShow filter. In many cases it already exists on current Windows systems.
SlideShow 7 Blue Net comes with its own DirectShow filters for a variety of video formats (AC3, H.264, MKV, MOV, MPEG1, MPEG2, MP4, MTS, M2TS, Qt, TS, WebM).
If your video can not be played in SlideShow, it could be due to a lack of DirectShow filters for the video format. Partly they can be installed later. There are different codec and filter packs available for download. Please refer to the notes to the codec package and also visit the website of the provider of this package. The installation of codecs can also affect other programs.
Please visit our FAQ (http://faq.aquasoft.de/index.php?action=artikel&cat=15&id=22&artlang=de) for detailed information.